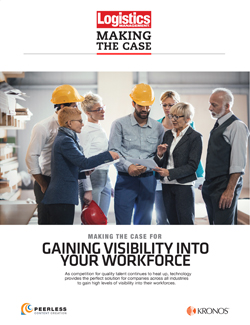 Making the Case for Gaining Visibility into Your Workplace
T HERE'S A NATIONAL LABOR CRISIS IN FULL EFFECT, and it's getting harder and harder for companies to ignore. Whether they're recruiting new employees, getting more out of their existing workforces, or ensuring the highest possible retention levels, today's organizations face unprecedented workforce management challenges.
In the warehouse or distribution center, the labor situation is especially challenging and top of mind for all logistics, transportation, and supply chain managers right now. Seasonal peaks and valleys, the surge in e-commerce, changing customer demands, and the perception that logistics jobs aren't exactly "sexy" or high-paying are just some of the contributing factors.
But even in the tightest job markets, organizations rely heavily on qualified, reliable workforces to continue running at a competitive pace. In a world where companies like Amazon are holding job fairs and hiring 40,000 to 50,000 new full-time workers in a single day, logistics managers simply can't afford to stand on the sidelines and hope they have the staff to run their operations.
"Competition for both skilled and unskilled labor in distribution and logistics is very high right now. In fact, there are close to 6 million job openings left unfilled every month, and the unemployment rate is at a historic low," Robert O'Dwyer, logistics industry principal at Kronos, points out. "Everyone is competing for a shrinking labor market and doing whatever they can do to differentiate from their competitors."
"The wage rate percentiles that tend to fall within the distribution industry have been some of the fastest Tackling Pressing Labor Challenges rising wage groups over the last two years," adds O'Dwyer. "It's clear that the tight labor market is driving wages significantly higher for the sector." The labor situation isn't getting any easier to manage, and the logistics sector is getting hit hard by a lack of skilled and unskilled workers."
Subscribe to our Newsletter
[contact-form-7 id="955" title="Newsletter"]
We do not share your data with anybody, and only use it for its intended purpose.