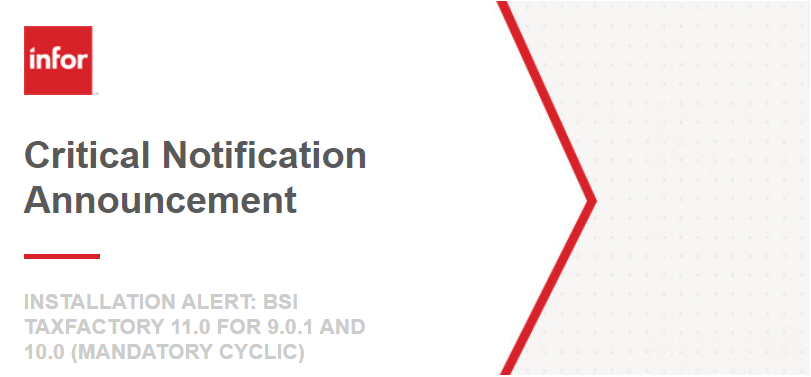 INSTALLATION ALERT: BSI TAXFACTORY 11.0 FOR 9.0.1 AND 10.0 (MANDATORY CYCLIC)
Issued: July 29, 2020

Description: BSI TaxFactory™ 11.0 is a mandatory BSI release for all Infor customers using Payroll with TaxFactory. Infor certification has been completed against TaxFactory 11.0.b. The TF11 release must be installed no later than April 30, 2021 as TaxFactory 10.0 will be decommissioned as of that date.
Note: Due to COVID-19 related disruptions, BSI has decided to extend the decommission date of TF10 from January 11, 2021 to April 30, 2021. However, it is recommended to update your TaxFactory version at your earliest convenience.
Click View Online to read a file attachment for more information.
Subscribe to our Newsletter
[contact-form-7 id="955" title="Newsletter"]
We do not share your data with anybody, and only use it for its intended purpose.